UFC: Giga Chikadze (-105) Vs Edson Barboza $$
This is going to be a fantastic fight that I am really looking forward to. Both of these fighters have similar styles and have incredible highlight reels full of 'jump out your seat' knock outs.
Chikadze in his last fight, had an impressive liver kick finish of veteran Cub Swanson in just over a minute. The fight highlighted the high enormous talent differential between himself and some of the older school fighters such as Swanson. It also showed the evolution of the sport and how it is transitioning into a more striking first focus.
For many years, grapplers and BJJ specialists, had a big advantage. This is becoming less evident in recent years, not because the quality of the grappling has been going down, rather because all the good fighters now have a solid base in BJJ and wrestling and the playing field has levelled. It is becoming increasingly rare to see straight up submissions that are not initiated after significant damage has already occurred.
This has has put an increased emphasis on the stand up game as fewer fights are finished on the ground. What we are now seeing is some of the best kick boxers are starting to shine and separate themselves from the pack a little. Both Chikadze and Barboza fit into this category and each have a full arsenal at range kicks at their disposal.
Fighters with wide boxing stances like Chuck Liddell and more recently Conner McGregor, find themselves being exploited by leg and specifically calf kicks that erode the power of a fighter later in the fight, and can even result in a TKO if inflicted repeatedly. This strategy is also effective in maintaining range for a taller fighter with a longer range, especially if it is combined with a stiff jab and good head movement.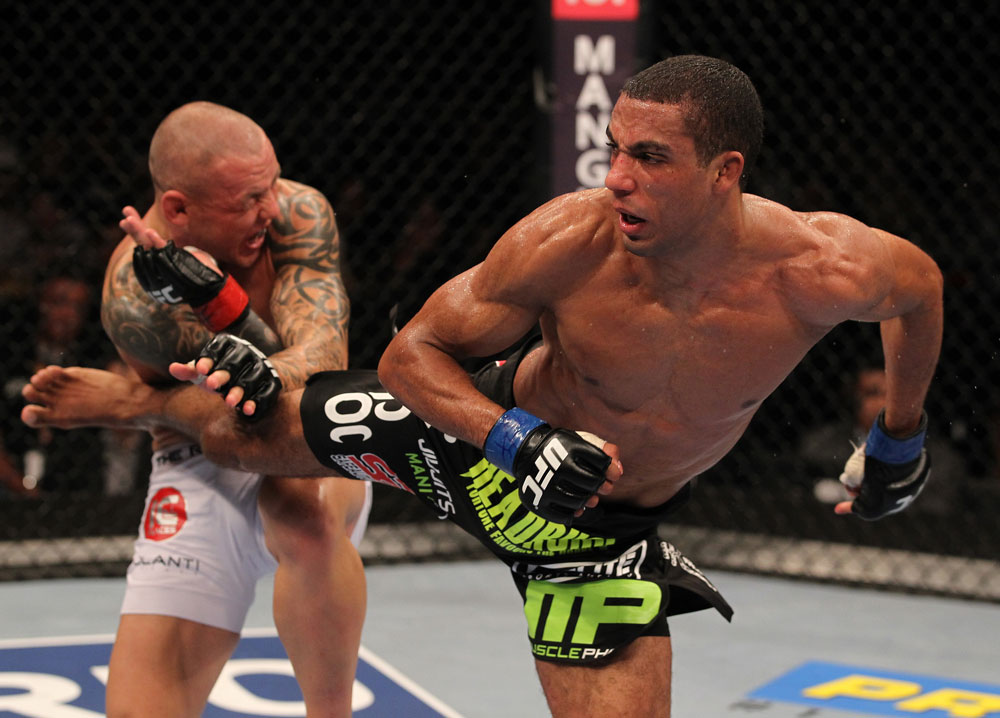 Getting back to this fight, both Chikadze and Barboza try to manage the distance from range and will attempt to employ the same strategy. I expect the fight to be fought very cautious particularly in the early rounds as they find their ranges and gauge their opponent. If it does go to championship rounds, you are likely to furious action with fists and feet flying. The question then becomes which fighter will be able to hit the other and then get out of the pocket without taking damage.
The one thing I like about Chikadze is his poise. He is an intensely focused, calm under pressure, and highly intelligent. Barboza, in comparison looks a bit reckless. The way Barboza fires his leg kicks makes me worry that he will one day find an opponent like Chikadze, who is quick and talented enough to check one off these leg kicks and he will end up with a major injury like Weidman or McGregor suffered. These types of 'cringy' injuries will unfortunately become more common under these scenarios.
Both of these fighters are capable of stopping the fight in a flash and you could miss it while taking a sip of beer. My strategy in this type of fight is to bet on the fighter I think will win if it goes to the judges. I like Chikadze in this scenario as I think he will be able to land more shots and slip away more often than is opponent.
Finally the last thing I like about Chikadze is that we have not yet seen where his ceiling is yet. Barboza has several losses on his record already and he seems unlikely to make his way all the way up the ranking to get a title shot. Giga, on the other hand has let to lose, and if he gets past this fight, he is sure to face even tougher challenges ahead.
Learn his name, Giga Chikadze, he will be around for many years to come.
UFC: Dustin Jacoby (-175) Vs Darren Stewart $
I'll throw this light heavy weight fight from the undercard in as an extra bonus. I picked Jacoby in his last fight against Cutelaba and was impressed by him and felt he got screwed out of a decision in a short notice fight as an underdog. The fight ended in a draw, but I felt he should have easily won. He was impressive with his jab and showed good grappling skills.
Jacoby has won four in a row (five if you count the draw). I know less about his opponent Stewart, but his most recent performances are far less impressive with 2 wins, 2 loses, and a no contest. I look for Jacoby to continue his win streak.
2021 UFC Picks, 16 – 6, +16.4 Units
Odds and Analysis provided by Odds Shark.
For advice on bankroll management, check out my article Bet Sizing for Sports Handicappers