UFC: Paddy Pimblett (-150) Vs Luigi Vendramini $$$
Paddy Pimblett makes his long awaited UFC debut on Saturday in the lightweight division. As soon as I saw the highlights of this kid, I knew I liked him and that he was going to make splash. He possesses contagious enthusiasm and confidence and reminds me of a young McGregor.
Despite only being 26 years of age, Pimblett is making his 20th professional fight. He seems cool, calm, and focused in the ring ring showing maturity beyond his years. He already boasts 3 five round decisions on his resume, so going back to just three rounds and not having to cut weight to make 155, should give him an even bigger boast to his already good cardio.
His best skill seems to be his wrestling and scrambling ability. He doesn't to mind throwing flying knees or kicks since he knows if he is taken down he can scrambling back up or pull guard on the ground. Off his back he looks dangerous for submissions and fighters who let him take their back, usually end up in a body lock and choked out.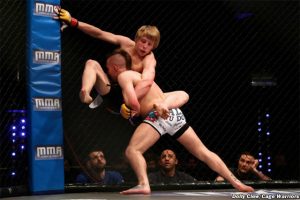 He even threw up a crazy flying triangle choke for a successful submission in this Cage Wars fight.
His striking may be his weakest area but still looked decent with an array of side kicks combined with a big overhand right. He claims that he cannot be knocked out. That would be a useful skill in the UFC since there is a pretty good chance he will be hit harder than any other time in his career. He has shown the ability to take a shot a keep a good defensive position.
As for Vendramini, he is making his debut at lightweight, coming down from welterweight. I do not like it when fighters first make that major weight cut because occasionally it does go wrong and it can upsets a fighter's strength and cardio. It is also a sign of fighter who finally admits to himself that he can no longer compete in his current weight class.
In his last fight, Luigi lost a majority decision to Fares Ziam. It was an uninspired performance and really boring fight. He will need to bring in a lot more energy if he wants to compete with Pimblett. His best path to victory may be a big KO, but Paddy has already announced how that would be impossible.
Last week I introduced you to Giga Chikadze and he got the the KO as I predicted. This week it is Paddy Pimblett. Again, learn his name as he is likely to be around for a while.
If you have been following my UFC result for the year, you will know that I am running hot and have won 6 fight cards n a row. If you want to to keep getting these winners for free, make sure you keep checking back daily for updated picks.
2021 UFC fight picks, 18-6 (.750), +18.7 Units
UFC Odds and Analysis provided by Best Fight Odds.
For advice on bankroll management, check out my article Bet Sizing for Sports Handicappers