Are you ready for some FOOTBALL!!! Tom Brady begins his title defence for Tampa Bay against Dak Prescott and the Cowboys on Thursday.
I will be here all season long to give my free selections so make sure you check my blog Daily to stay up to date with my NFL picks and analysis.
If you haven't already done so, check out my free AFC and NFC preseason prop selections as a primer! I will start the season with an easy total.
NFL: Cowboys
Prescott

/ Buccaneers

Brady

OVER (51.5) $

At age 44, Tom Brady looks like he could potentially play a couple more years and has a chance to win his 8th Super Bowl this season. That is a crazy number that puts Brady in the conversation for the best athlete in the history of all sports. I seems Brady is in fine form still to do it another year.

I was not on the Buccaneer band wagon last year, and I would be surprised if they will be as good as last year. But this offence should still one of the best in the league as Gronkowski returns for his second season in TB. Leonard Fournette returns for the Bucs but really his job is just to keep the defences honest for the play action passing game and he was effective last year doing so.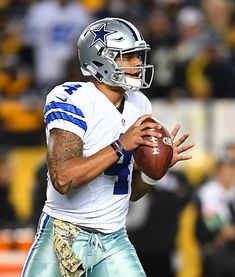 Dak Prescott is back under center for the Cowboys after missing the final 11 games of 2020 with a compound fracture of his right ankle. He has also been dealing with a should injury for much of the off season. Reports are that is healthy and ready to start the season.
He was on pace to have a break out year in 2020 and expectations for him this season will be sky high. The unfortunate part of this story is the Dallas Cowboy defence is terrible and Dak will need to score a tonne of points this year just to keep his team competitive.
Having many questions about the defence is not a good way to start the season when you are facing the defending Super Bowl champs and Tom Brady. The Bucks scored 30+ points in 12 of the team's games last year including all four playoff games. Getting 30-35 in the season opener against this questionable Cowboy defence, should not be a big ask.
If they Bucs pull ahead in the second half, you know Dak will be slinging the ball downfield late and garbage points in this game seem very likely. Over 51.5 seems an easy pick to start the season.
I will be releasing any NFL picks every Tuesday Night for the Thursday night games and my selections for the Sunday games will be on Fridays. Again, be sure to check my posts Daily to get all your picks for the weekend.
NFL Lines provided by Odds Shark.